Day two of my
Facebook
Art Challenge (post 3 images a day for 5 days) featured large collage works. Two of the works depict a boat I had named the Arkadelphia (named after a street I passed in Alabama, I later created
a little story about it's history
). After making the first image with a series of black and white printed portraits, I later wanted to try printing the figures in color and created the second image.
Kip Deeds, Moving Company, Collage Mounted on Canvas, 60″ x 72″, 2005
Kip Deeds, Poe Procession, Collage Mounted on Canvas, 46″ x 61″, 2009
The third image included was a portrait of Goethe after a sketch by Johann Heinrich Wilhelm Tischbein. I learned a lot making this image. Tischbein's drawing wonderfully captures Goethe in a private moment. It functions the way a sketch does best (i.e. getting to the essence quickly). However, when interpreting the image I had
to decide wether or not to make corrections (I was not sketching). I fixed the perspective in the chair and in doing so I think the drawing lost some freshness and became more mechanical. That being said, all the other information I added created a new realm, one that I think Goethe would appreciate.
Kip Deeds, Goethe, Ink, Collage, and Relief Print on Canvas, 45″ x 50″, 2009
Next I nominated
Rachel Welling
to participate in this illustrious FB challenge (3 images a day for 5 days). I met Rachel at the Vermont Studio Center in 2003 and I am pleased to see her work grow and grow. Below is a sample of her work.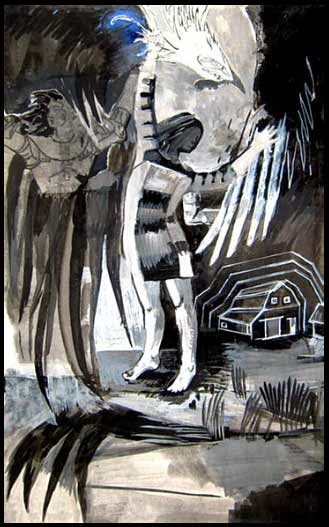 Rachel Welling, A Calling, ink and acrylic on paper, 17″ X

11″

, 2011-2014